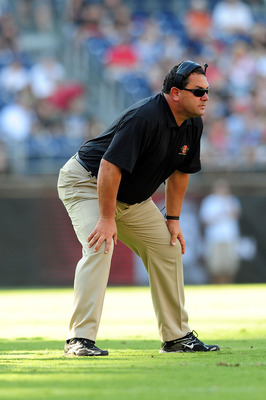 Jacob de Golish/Getty Images
Reports are coming fast and furious out of Baton Rouge, Louisiana that LSU head coach Les Miles will not accept the Michigan job and will return as the head coach of the Tigers.
According to
Randy Rosetta
, LSU beat writer for the Baton Rouge Advocate, he received a text message from the LSU athletic director confirming that Miles will in fact stay with LSU.
Now the rumors will really start flying.
San Diego State head coach Brady Hoke has been the one name that continues to come up and has come up over the past month or two since word of Rich Rodriguez's fate, or potential fate at that point, was a foregone conclusion.
Another name that was brought up by Lisa Horne of Fox Sports,
via Twitter
, was University of Huston head coach Kevin Sumlin. He's not exactly as big of a name as Hoke but then again Hoke's name isn't huge either.
It's a wait and see game at this point but what we do know is Les Miles has taken his name out of the running.