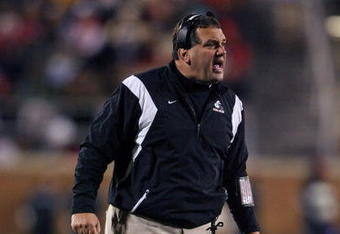 Andy Lyons/Getty Images
Update: 8:42pm CST -
As we all learned earlier this afternoon, a deal was finalized for Brady Hoke to become the next head coach at Michigan. A press conference is scheduled for Wednesday afternoon at 1pm local time.
According to
Brent Schrotenboer of the San Diego Union Tribune
, Brady Hoke's agent is or has been in negotiations with Michigan for him to become the next head coach of the Wolverines. Sports station 1090 AM out of San Diego is also confirming that Michigan's athletic director, Dave Brandon, will meet with Hoke to discuss the vacant head coaching job.
There have been quite a few reactions throughout the Twitterverse and most aren't of the good variety. From what I've seen from several different Michigan fans, they aren't happy that Les Miles returned to LSU and that Brady Hoke is going to be their next head coach.
Now those are only a few responses as there are plenty of other Michigan fans throughout Twitter that might have a different reaction but I'm only giving you what I've seen so far.
Nothing is official yet so if and when it does, we'll hit you with the particulars.
The next discussion to be had is who takes over at San Diego State? Well, if they want to continue their run of excellence I would think they would want to bring in a guy that knows how to win and has done so already at another mid-major school.
One name I'll throw out is Fresno State head coach Pat Hill.