Colby Lewis Finally Gets it Right
Tom Pennington/Getty Images

Texas Rangers' right hander Colby Lewis couldn't have picked a better time to finally have a good outing for his team.
After giving up 15 earned runs in his last two combined starts (4.2 IP), Lewis came out and had a solid outing against the Atlanta Braves, giving up just two runs and striking out 10 through six and two-third innings in a 6-2 Rangers' win. A win this team desperately needed after dropping seven of their last nine going into Friday night's game.
This is the kind of start Lewis needs to be able to carry a little bit of momentum and confidence into his next outing which will likely come at home against the Houston Astros next week.
Rangers Sign Both First Round Picks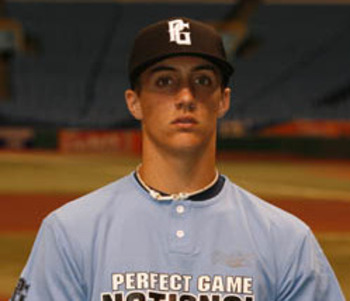 On Friday afternoon, the Texas Rangers made the announcement they had reached an agreement with their two first round draft picks, right hander Kevin Matthews and outfielder Zach Cone.
Matthews, a right hander from Richmon Hill High School in Georgia. Thought to be a solid commit to the University of Virginia, word quickly spread that Matthews had every intention of signing with the team. He made good on those rumors, signing for $936,000 and will report to the Arizona Rookie League.
The other first round pick the team was able to sign on Friday was former Georgia Bulldog outfielder, Zach Cone. You might remember Cone was involved in a collision with teammate Johnathan Taylor on March 6th that left Taylor partially paralyzed with a broken neck.
Not only did the Rangers draft Cone but they also surprised Taylor by drafting him as well. Cone signed on Friday for $873,000 and will report to Class A Spokane.

Francisco Rodriguez a Possible Target

Doug Pensinger/Getty Images

It's well known the Rangers will be one of those teams looking to add pitching depth at or before the trade deadline at the end of July. With that date quickly approaching, the list of names this team could be interested in has grown by the day.

We have heard the likes of San Diego Padres' closer Heath Bell, Washington Nationals' relievers Todd Coffey and Tyler Clippard, and Kansas City Royals' closer Joakim Soria just to name a few.
But one other name who has been mentioned is former Los Angels Angels' and current New York Mets' closer, Francisco Rodriguez. You might know Rodriguez as the young star with the Angels who came in to a game against the New York Yankees in the American League Championship Series and made them look like little leaguers at the plate.

Rodriguez is currently 1-2 with a 3.18 ERA and 19 saves on the season but has given up almost as many runs this season (12) as he gave up all of last season (14).
Tanner Scheppers Re-Activated

Jeff Gross/Getty Images

Though the Rangers will look for bullpen help as well as another starter at the trade deadline, they may not have to look any further than their own minor league system for a pitcher who can make an immediate impact.
Tanner Scheppers is one of the top pitching prospects in the Rangers system and had been just one move away from the big leagues at Triple-A Round Rock.
Unfortunately, Scheppers struggled before going on the disabled list with a back injury.
On Friday, the young right hander was re-activated by the team and sent to Double-A Frisco to join the RoughRidgers' bullpen. According to general manager Jon Daniels, it might be awhile before Scheppers makes his way up the ladder again. "Coming off the injury, we want Tanner to get his routine down before we challenge him at a higher level," he told
Jeff Wilson of the Star Telegram
.