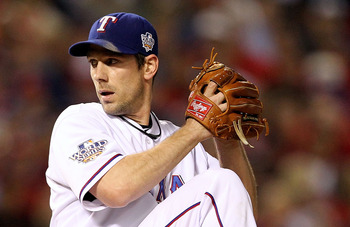 Ronald Martinez/Getty Images
We knew the Cliff Lee sweepstakes were going to heat up as soon as the Winter Meetings got underway, mostly because Lee made it clear he wasn't going to listen to offers until the aforementioned meetings began.
Well, according to the
New York Post
, the Texas Rangers could be tipping their hand a little bit early. George King III writes that the Rangers could be willing to offer a five-year contract that would pay Lee $23 million annually which would make the contract worth roughly $115 million or more depending on if there are any performance based incentives included.
There's no doubt that the New York Yankees will respond but the fact that the Rangers have laid their cards on the table, assuming this deal is legit, will force the Yankees to go higher than $120 million to keep the left-hander interested.
I'm curious to hear Ranger fans respond to this deal and if they believe this to be the kind of deal they expected the team to put in front of the guy they landed just before the trade deadline this past season. Are they putting too much on the line for one guy and could they miss out on other free agents if they end up waiting for Lee's answer, or do they have a backup plan already in place?
Those questions may not be answered until next week when Lee is expected to officially begin looking at the offers on the table. Though, there's no guarantee that he'll make a decision by the end of the Winter Meetings but I would imagine that teams would like the answer sooner rather than later in order to make corresponding moves.
The Rangers have done the right thing here in my opinion. Though there's always a chance that they could be bluffing just to see if the Yankees buy into it, turn around, and put together an offer that let's the Rangers know just how far Brian Cashman and the Steinbrenner's are prepared to go.
We do know that the Yankees re-signed Sergio Mitre earlier today. It's not a huge move, but it's one to keep their bullpen strong.
The drama continues to unfold between them and long time short stop Derek Jeter. There are rumors that the Yankees were willing to give him three years while Jeter wanted five or six. I don't blame the Yankees for balking at that.
Ranger fans are hoping to see Cliff Lee back in Rangers blue and white and not dawning the Yankee pinstripes when he finally does make the decision.
However, don't expect Nolan Ryan to get into a bidding war with the Bronx Bombers. He knows full well they can put more money on the table than his team can. Ryan is hoping for leverage and the fact that he's close to his family in Arkansas by staying in Arlington.
Ryan also knows that it's not a tough sell by saying the Rangers are close to winning a championship as they knocked off the defending champion Yankees to get to the World Series, though they would eventually lose to the San Francisco Giants in five games.
This is an intriguing development in this story. One that will only get better next week as the winter meetings get underway.